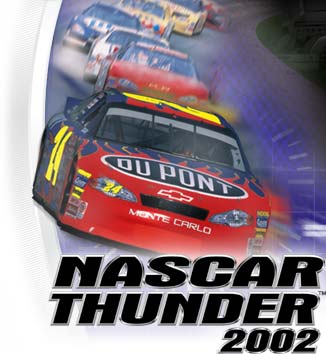 NASCAR THUNDER 2002 roars to the front of the field with a stunning new graphics engine from the makers of Madden NFL 2002. Strap yourself in and take control of heavy metal thunder. For the first time on console, go door to door with a full race grid of 43 cars on track. With over 50 drivers and all 23 tracks from the NASCAR Winston Cup series, NASCAR Thunder 2002 delivers lightning-fast racing and the most interactive NASCAR ever seen.

NASCAR video games are among the subgenres that have benefited the most from our current transition to the powerful 128-bit platforms. It used to be that 20 to 30 cars would often hopelessly bog down frame rates, subsequently hindering the gameplay in previous-generation NASCAR games. But, with NASCAR Thunder 2002, Electronic Arts effectively showcases the Xbox powerhouse, as 43 cars race side-by-side with limited frame rate issues. Complementing the generally smooth frame rates are some of the most striking car models and lighting effects seen in a NASCAR game to date. In addition to its beautiful visuals, flawless presentation, and extensive stats tracking, the game is also highly playable. Sure, it doesn't simulate the sport of stock car racing as well as other NASCAR products on the market, but it is simply fun to play for both NASCAR fans and casual game players alike.
Electronic Arts has proven time and again that it knows the ins and outs of presentation in its sports games. The game opens with an image of Dale Earnhardt's black number "3" and then slowly transitions into race footage, as Lynard Skynard's "Sweet Home Alabama" blares in the background. The game will instantly get you revved up for NASCAR racing. That intensity in presentation is maintained throughout the course of the game, as prior to every race, TV-style camera work and a two-man announcing team will take you through the starting grid. NASCAR buffs will also find themselves lost in the depths of the game's extensive stats tracking system. Thunder 2002 keeps track of driver stats and season standings in 16 different categories. You can look up finish positions, winnings, laps led, earnings, and averages.
In the game's career and season modes, it also keeps track of sponsorships, which is a first for EA's NASCAR series. In both modes of play, the objective is to win eight season championships over the course of 20 years, but there are rather significant differences between these two modes. In season mode, you race as a NASCAR pro, and all the cars in the game are at about the same performance level. However, in career mode, you create your own driver and car, select a primary and secondary sponsor, and go racing to make a name for yourself in the world of NASCAR. The more you win, the more money you earn, and those earnings can in turn be used to upgrade your car and racing team. New sponsors will approach you from time to time if you're successful, and you'll also have the opportunity to replace retiring drivers from high-profile racing teams. Both modes of play are quite extensive, complete with the official races, including the Daytona 500, Watkins Glenn, and Electronic Arts' own EA Sports 500 at Talladega. This type of attention to detail extends to the actual gameplay.
The gameplay in NASCAR Thunder 2002 isn't rooted in uncompromising simulation like some competing products. In fact, the way you're able to go from last to first in a matter of a few laps is highly unrealistic. However, the existing gameplay system is quite intuitive and fun, and it will appeal to racing fans who aren't particularly interested in the rigid simulation aspects of NASCAR racing. The most prominent of Thunder's gameplay features is the draft meter, which clearly lets you know if you're riding a slipstream. You can make lengthy runs through the field by drafting behind two or more cars, and passing is generally a breeze when using the draft meter. This makes for rather interesting and tight-quarters racing, as the AI drivers will attempt to do the same.